VIBE TRIBE
fri27oct10:00 amfri1:00 pmVIBE TRIBE10:00 am - 1:00 pm(GMT+01:00) View in my time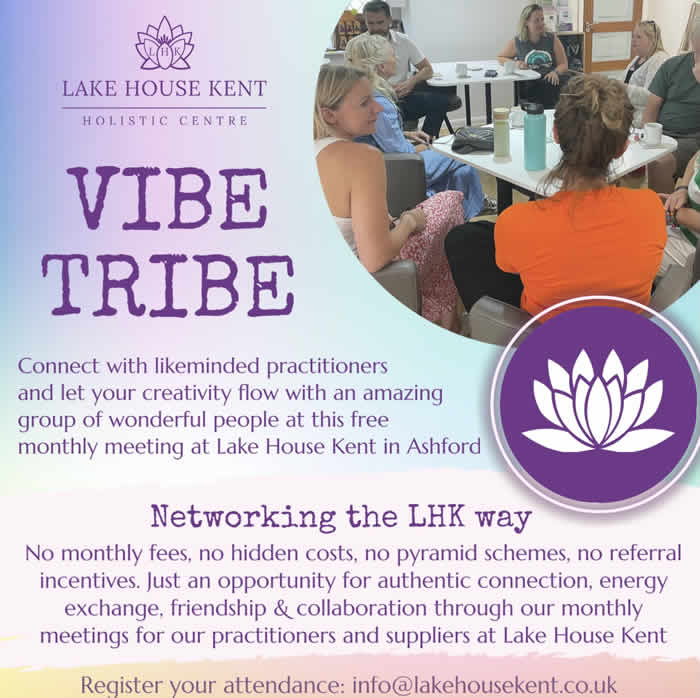 Event Details

TO ALL OF THE FABULOUS PRACTITIONERS AND SUPPLIERS AFFILIATED WITH US, HERE'S A DATE FOR YOUR DIARY!

Just a reminder that Vibe Tribe, our monthly meeting for practitioners and suppliers of Lake House Kent is on from 10am – 1pm

So pop this date in your diary!

You'll get to meet some truly wonderful people, find out what's happening at the venue, discuss marketing ideas and consider potential collaborations!

We believe that if you have a true understanding of what each other practices and a real insight into that person, you have the fundamental basis of a great working relationship. One that which you will be able to recommend wholeheartedly and without pause.

What makes Vibe Tribe operate a little differently to some Networking groups is that you don't have to pay a monthly fee to meet amazing people. Our Vibe Tribe is free of charge to attend. There are no pyramid schemes and no referral campaigns, so If someone suggests you join, it's only because they want you here and think you're fabulous!

We are building a beautiful community here at Lake House Kent that we are incredibly proud of, where friendships are formed, and collaborations grown. It's a real meeting of minds and sharing of ideas, as well as energy exchanges and even group outings!

Our Vibe Tribe community is solely for those affiliated with Lake House Kent and is simply based on integrity, trust and wonderful practitioners with good hearts and magical souls! That's all.

Your contribution is what makes this tribe so special.

If you are looking for a venue to practice from or host your own retreats or classes, then get in touch! We look forward to welcoming you to Lake House Kent✨

This meeting welcomes all Lake House Kent practitioners and suppliers (and those who are looking to become part of the Lake House Kent tribe) who want to connect with other practitioners and suppliers here.
Time

(Friday) 10:00 am - 1:00 pm(GMT+01:00) View in my time